PGA TOUR Player David Hearn and Extendicare bring back The David Hearn Foundation Hats for 2017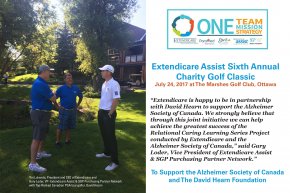 After a successful campaign in 2016, The David Hearn Foundation hats are launching again in three new styles - with 100% of proceeds going to the Alzheimer Society of Canada
TORONTO, ON (May 31st, 2017) - PGA TOUR golfer David Hearn and his partner Extendicare are proud to announce the return of The David Hearn Foundation hats initiative, which raised more than $20,000 in 2016 for the Alzheimer Society of Canada. Based on the success of last year's campaign and the demand for the hats, Hearn and Extendicare have once again partnered with Levelwear Apparel to not only bring the hats back, but introduce three new styles: a golf hat and two lifestyle hats.
The David Hearn Foundation hats are now officially on sale at www.DavidHearn.ca by clicking on the 'Foundation Shop' tab on the website.
Hearn, a global ambassador of Extendicare on and off the course, has worked closely with the company to support the Alzheimer Society of Canada - a cause and organization both parties are passionate about and heavily involved in. Furthering their support, for each The David Hearn Foundation hat sold, Extendicare will donate an additional $2 to the Alzheimer Society of Canada through the campaign.
"Extendicare is happy to be in partnership with David Hearn to support the Alzheimer Society of Canada. We strongly believe that through this joint initiative we can help achieve the greatest success of the Relational Caring Learning Series Project conducted by Extendicare and the Alzheimer Society of Canada," said Gary Loder, Vice President of Extendicare Assist & SGP Purchasing Partner Network.
As one of the top Canadian golfers on the PGA TOUR for the past three seasons, Hearn was selected to represent Canada on a global scale at the 2016 Rio Olympic Games. Off the course, Hearn has been working with Alzheimer Society of Brant, Haldimand Norfolk, Hamilton Halton since 2012, and announced a national partnership with the Alzheimer Society of Canada during the launch of his Foundation in 2015.
"It was amazing to see how well the hats went over last year - and that we were able to sell them out in a period of a few months," said Hearn. "These hats are another piece of The David Hearn Foundation portfolio that's purpose is to both raise awareness of the disease, and funds for the Alzheimer Society of Canada to be able to implement research and programs/services across the country. I am so thankful to have a partner in Extendicare who shares my passion for this cause and supports me in these initiatives."
In 2012, Extendicare Assist, the management and consulting division of Extendicare, also partnered with the Alzheimer Society of Canada for a five-year commitment to support the "culture change" initiative which is aimed at improving the quality of care and life for Canadians who live with Alzheimer's and other dementias in long-term care homes. Over the past five years of the partnership, Extendicare Assist has donated nearly $500,000 to the Alzheimer Society.
"It is gratifying to work with partners like David Hearn and Extendicare who share our commitment to quality, personalized care and support for individuals and families affected by dementia, including Alzheimer's disease. Tackling dementia is truly a team sport and together, we can achieve greater impact in raising awareness in our communities and much-needed funds for research and local programs and services," says Pauline Tardif, CEO, Alzheimer Society of Canada.
About Extendicare
Our mission is "Helping People Live Better". Through our network of 118 owned and operated health care centres, as well as our home health care operations, we are committed to delivering care to meet the needs of a growing seniors' population in Canada. Our qualified and highly trained workforce of 23,700 individuals is dedicated to helping people live better through a commitment to quality service and a passion for what we do.
Website: www.extendicare.com
Twitter: @extendicare
About The David Hearn Foundation
Founded in 2015, The David Hearn Foundation's central focus is to support the Alzheimer Society of Canada in reducing the personal and social impacts of the disease by raising funds to provide individuals and families with needed programs and services. Through its partnership, the Foundation aims to increase awareness, improve care for those in need and enhance the quality of life for those affected by the disease, while also empowering Canadians to take action and create positive change.
Website: www.DavidHearn.ca
Twitter: @hearnfoundation
Facebook: The David Hearn
About the Alzheimer Society of Canada
The Alzheimer Society is the leading nationwide health charity for people living with Alzheimer's disease and other dementias. Active in communities across Canada, the Society offers help for today through our programs and services, and hope for tomorrow by funding research into the cause, prevention and a cure. To learn more, visit www.alzheimer.ca
For further information, please contact:
Matt Bontorin
PR & Media Manager
SportBox Entertainment Group / The David Hearn Foundation
P: (647) 381-1463
E: mbontorin@sportboxgroup.com
Sofia Mavumba
Communications Manager
Extendicare Inc.
P: (905) 470-5494