Extendicare Assist Announces 2017 Golf Tournament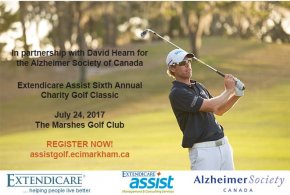 Markham ON (February, 2017) – Extendicare Assist, the management and consulting division of Extendicare Inc., announced today that they will be holding their sixth annual Charity Golf Classic on July 24, 2017. The event will once again be at the Marshes Golf Club in Ottawa, Ontario.
The proceeds of this tournament go to the Alzheimer Society of Canada to support the "relation care learning series project". This project is a new phase of the change initiative that aims to improve the quality of care and life for Canadians living with Alzheimer's disease and other dementias in care homes. Since beginning the partnership in 2012 Extendicare Assist has raised $500,000 plus through the golf tournament – every penny has gone to the Alzheimer Society of Canada.
Last year, top-ranked Canadian PGA Tour golfer David Hearn made an appearance, in which Hearn acted as a global ambassador for the company on and off the course. Our sponsors got the opportunity to play with David Hearn. Hearn is also a strong supporter of the Alzheimer Society so the partnership was a natural fit. Last year's tournament was a huge success for fundraising and awareness of the Alzheimer's Society.
"Once again we are excited to work with David Hearn," said Gary Loder, Vice-President of Managed Homes and Consulting at Extendicare. "We also anticipate another successful fundraiser for the Alzheimer's Society."
This year's tournament offers golfers a beautiful course, excellent prizes and a lot of fun for participants. Not to mention the added benefit of supporting an important cause that impacts the lives of millions of Canadians.
"I was elated to welcome Extendicare to my team in 2016," said David Hearn, PGA TOUR Player and Extendicare Ambassador. "What we have developed over the past year is a relationship, where we understand each other's foundation; we have a shared mission of caring and a vision of helping people live better through our partnership and through our initiatives to raise awareness and funds for the Alzheimer Society of Canada."
To sign up for the tournament or to become a sponsor visit assistgolf.ecimarkham.ca.
About Extendicare
Extendicare is a leading provider of care and services for seniors throughout Canada. Through our network of 119 operated senior care and living centres (64 owned/55 managed), as well as our home health care operations, we are committed to delivering care throughout the health care continuum to meet the needs of a growing seniors' population in Canada. Our qualified and highly trained workforce of 23,800 individuals is dedicated to helping people live better through a commitment to quality service and a passion for what we do.
About Extendicare Assist
Extendicare Assist offers specialized management and consulting services to other health care operators. Our services include clinical care, dietary services, information technology, financial and administrative services, operational reviews and more. Extendicare Assist provides expertise in administration and management of long-term care homes, chronic care centres and supportive living and retirement living for its 55 partner homes in three provinces.
About the Alzheimer Society of Canada
The Alzheimer Society is the leading nationwide health charity for people living with Alzheimer's disease and other dementias. Active in communities across Canada, the Society offers help for today through our programs and services, and hope for tomorrow by funding research into the cause, prevention and a cure. To learn more, visit www.alzheimer.ca.
About The David Hearn Foundation
Founded in 2015, The David Hearn Foundation's central focus is to support the Alzheimer Society of Canada in reducing the personal and social impacts of the disease by raising funds to provide individuals and families with needed programs and services. Through its partnership, the Foundation aims to increase awareness, improve care for those in need and enhance the quality of life for those affected by the disease, while also empowering Canadians to take action and create positive change.
Website: www.DavidHearn.ca
Twitter: @hearnfoundation
Facebook: The David Hearn Foundation
For further information about The David Hearn Foundation or for interviews with David Hearn, please contact:
McKenzie Clarke
Senior Manager
SportBox Entertainment Group
P: (647) 468-3500
For further information about Extendicare, please contact:
Sofia Mavumba
Communications Manager
Extendicare Inc.
P: (905) 470-5494