On Spotlight: Strong-willed Sylvia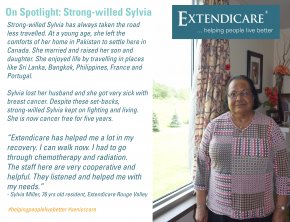 Strong-willed Sylvia has always taken the road less travelled. At a young age, she left the comforts of her home in Pakistan to settle here in Canada. She married and raised her son and daughter. She enjoyed life by travelling in places like Sri Lanka, Bangkok, Philippines, France and Portugal.
Sylvia lost her husband and she got very sick with breast cancer. Despite these set-backs, strong-willed Sylvia kept on fighting and living. She is now cancer free for five years.
"Extendicare has helped me a lot in my recovery. I can walk now. I had to go through chemotherapy and radiation. The staff here are very cooperative and helpful. They listened and helped me with my needs."
Sylvia spends her day playing word games, playing Bingo or going to day trips with her friends at Extendicare Rouge Valley. She also enjoys reading romantic novels or watching TV shows like the "Young and the Restless". She is truly a romantic at heart. She helps other residents live better by giving them a little hand or a friendly advice.