Celebrating Our Seniors Across Canada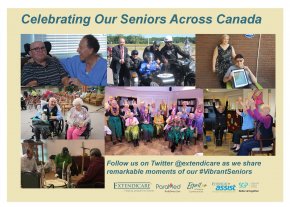 As we start to enjoy the beautiful weather all over Canada at this time of the year, we are excited to take this moment to celebrate the seniors we serve all across the country.
June is Seniors month/week in various provinces across Canada and we at Extendicare are using this time to remember our valuable residents and clients who we serve every day.
All across the country various activities are taking place in our homes and communities that demonstrate how amazing our seniors are.
As we provide support to our seniors, some of whom are frail and vulnerable, we must remember what they once were… We must remember that many of these men and women made a lot of sacrifices on behalf of our country. Help us celebrate their presence, the wisdom and wit that they bring and the experiences that they share with us. We should take stock of their contributions as nurses, soldiers, teachers, pilots, moms and dads.
We know that making their lives better every day would not be possible without all of you. Your contribution as front line employees, management, administrators, branch office staff, corporate office staff, etc., all helps them live better as we strive to be the best provider of senior care and services in Canada.
As our country gets ready to celebrate 150 years, we realize that many of our seniors have not only witnessed but played a role in helping us get to where we are today. Please take time to thank the senior in your life during this year's seniors' month.
By Extendicare Senior Leadership Team
Tim Lukenda President and Chief Executive Officer
Deborah Bakti Vice President, Human Resources
Elaine Everson Vice President and Chief Financial Officer
Jillian Fountain Corporate Secretary
Michael Harris Vice President, Long-Term Care Operations
Gary Loder Vice President, Extendicare Assist and SGP Purchasing Partner Network
Mark Lugowski Vice President, Esprit Lifestyle Communities
Richard Luneburg Vice President, ParaMed
Christina McKey Vice President
Tracey Mulcahy Vice President, Quality, Risk and Innovation
Brandon Parent Vice President and General Counsel